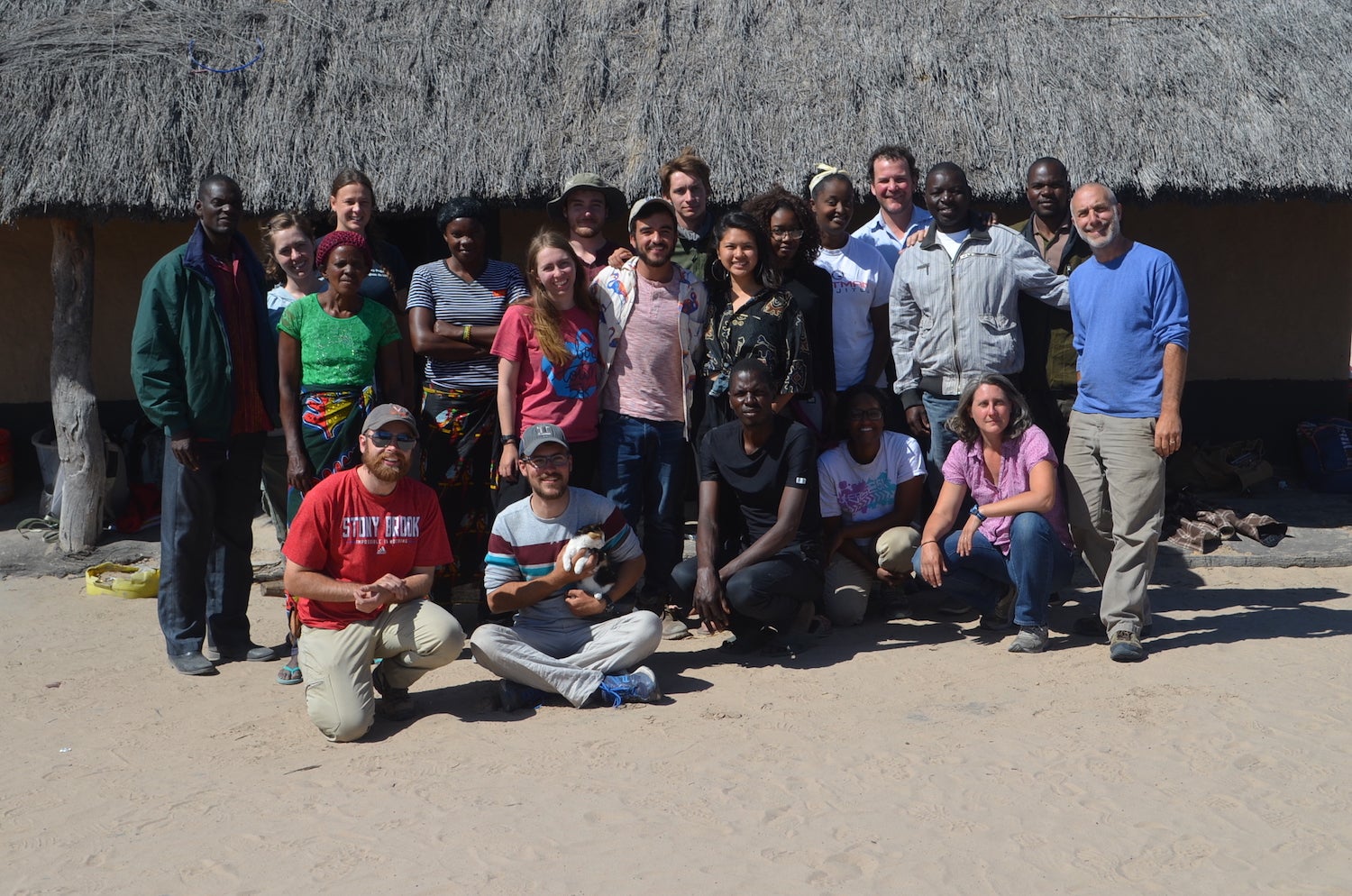 Read an article about the 2009 field school in Tanzania
Read an article written by a 2013 field school student about their experiences on the field school in Tanzania
The archaeological field school in the Kafue River Floodplain and Batoka Plateau in southwest Zambia is a five-week on-site course that will introduce students to a multi-disciplinary approach to archaeology and African history. Students will learn the techniques and methodologies of field archaeology, in an experiential-learning environment.
All students will participate in archaeological excavations at the site of Mwanamaimpa, a complex, deeply-stratified mound site that contains deposits representing over 600 years of continuous occupation. Students will also participate in archaeological surveys in the broader region, looking for and recording sites in the surrounding savannah woodlands, grasslands, and floodplains. A key part of these activities will the collection and recording of soils, under the guidance of a geoarchaeologist, with the aim of reconstructing ancient environmental settings and changes.
Applications are due Friday, February 28th, 2022.
All students should apply using the application form by way of this website. If unable, they are welcome to print the application and deliver it to the Anthropology Department, in Sewall 570, or send it to:
Zambia Field School Coordinator
Department of Anthropology, MS-20
Rice University
6100 Main St.
Houston, TX 77005
Additional detailed information will follow once acceptances are sent out, but feel free to email Jeffrey Fleisher (jfleisherATriceDOTedu) with any questions.
The 2022 Field School
The Field School will run from June 26th to July 31st, 2022.

The first week includes an orientation in Livingstone, with introductory lectures by faculty and a tour of the Livingstone Museum, with an artifact overview with museum collections.

Weeks 2 through 5 will involve archaeological research, including:
Total Station survey, mapping archaeological contexts, site boundaries, topography
Shovel-test excavations/survey
Excavations at the Mwanamaimpa mound site
Laboratory research: artifact processing and identification; ceramic analysis

In general, field work will run from Monday through Saturday, with Sundays off. On days off, we will plan field trips to other archaeological sites in the area or simply spend the day in nearby Itezh Tezhi or Livingstone.
Courses
Two courses will be taught for a total of six hours Rice credit:
Anth 364: African Archaeology Field Techniques (3 hours)
This course offers field instruction in methods used in archaeology generally and African archaeology in particular. It emphasizes practical instruction in excavation and data collection techniques, as well as recording methods, including drawing and site photography.
Anth 370: Archaeological Laboratory Techniques and Analysis (3 hours)
The techniques of processing, recording, and conserving archaeological materials recovered from excavation, and their preliminary analysis, are emphasized in this course. This will include the analysis of locally produced artifacts such as ceramics and iron.
Admission Requirements
There are no specific pre-requisites for admission to the field school. However, there is a general requirement that participants have prior course work in EITHER African history or archaeology. A student without any background in archaeology will be required to do extra preparatory reading.
GPA must be 3.0 or better.
Excavation involves fairly vigorous physical labor: digging, scraping, lifting, climbing, hiking. Students must be physically able to undertake all these activities. No language preparation is required.
Costs
The cost of the field school is $4,000 for tuition, room, board, and local program-related travel between Livingstone and the Kafue Floodplain. Also included are an orientation program in Livingstone and trips to archaeological sites and other attractions (Victoria Falls) in the region, as well as a one-night safari in Chobe National Park in Botswana.
These program costs do not include transportation to and from Livingstone, Zambia, international health insurance (required), vacation travel before or after the program, and personal expenses.
All accepted students will receive $1500 toward airfare and Visas costs--these funds come through the generous support of an International Opportunities Initiatives Grant from the Center for Civic Leadership made possible by the Wagoner Foreign Study Endowment at Rice. Financial need beyond this should not be a barrier to participation in this program. If you need additional financial support to participate in this program, please mark that on the application.
Refund policy:
If the student withdraws before 1 May, but after assumption of expenses such as air tickets, housing deposits, etc, the student pays actual costs incurred.
Withdrawal after 1 May but before June start date: actual costs plus 50% tuition
Withdrawal after June start date: no refund.

Travel
You are responsible for arranging your flights to Livingstone (LVI), Zambia in coordination with the director of the field school. Coming from the United States, the best prices on flights usually require a transfer in Europe or South Africa, there are no direct flights from the United States to Zambia.
Visa Requirements
A visa is required for all United States passport holders traveling to Zambia. Currently, the fee for a tourist visa (which is what you will need) is $50. You can apply for a Visa from the Zambian Embassy prior to the Field School or apply in person at the airport in Livingstone. We strongly encourage you to apply for your Visa before departure. For information on applying for a Ordinary/Tourist Visa, please see the Zambian Embassy website for information and application form.